We are distributing all products from Sacher Lasertechnik, GmbH in Australia and Newzealand. Please contact us with your enquiries or visit site http://www.sacher-laser.com
Sacher Lasertechnik is a well established business with more than 20 years experience in laser technology. The founder, Dr. Joachim R. Sacher is one of the pioneers of diode lasers with external cavity
The company has developed from a university spin-off to a technology leader in the field of high power tunable external cavity diode lasers. Dr. Joachim Sacher developed an antireflection coating technology during his PhD thesis and was one of the first scientists who recognized the commercial potential of external cavity lasers in connection with antireflection coated diode lasers.
APPLICATIONS:
Metrology
Absorption Spectroscopy
MIR Spectroscopy
Fluorescence spectroscopy
RAMAN spectroscopy
Industrial application
Absolute distance interferometry
Biological and medical research
Industrial Lasers
Micron Laser
Ultra Stable X-Cavity Laser

Ultra Stable, Micro Tunable External Cavity Laser,  638nm ... 1770nm, up to 300mW,
narrow linewidth, no moving parts, mode-hop free tuning, free space collimated laser beam.
Scientific Lasers
Manual Tunable Littman/Metcalf Diode Laser System - Lion
Littman / Metcalf Tunable External Cavity Diode Laser, 630nm .. 2450nm, up to 100mW,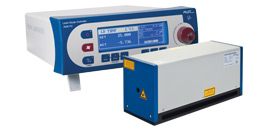 patented technology, hands-off operation, large mode-hop free piezo tuning range, narrow linewidth, free space and fiber coupled versions. Check our ar-coated diode stock list for availability.
Tapered Littman/Metcalf Laser - Tiger
Monolithic Tapered Littman/Metcalf Tunable External Cavity Laser, 750nm .. 1080nm, up to 500mW,
patented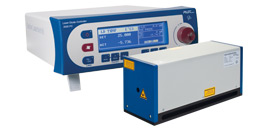 technology,manual and motorized wavelength tuning, hands-off operation, narrow linewidth, up to 30GHz mode-hop free tuning, free space and fiber coupled versions.
CW THz Laser
A diode laser pumped frequency converted laser system is offered for CW THz Generation via Frequency Mixing.
The Frequency Mixing Crystal is pumped via two superimposed tunable diode lasers.
The covered THz frequency regime ranges from DC to several THz.
Electronic Systems
Benchtop External Cavity Laser Controller
The PilotPZ is a laser diode controller together with laser diode temperature controller, Piezo Amplifier and Function Generator combined in one bench-top instrument. Special features are low noise laser current and highly stable temperature control. Remote control via USB, GPIB / IEEE 488.2, and RS232 interface.
All type of solid state lasers and gas lasers are available on request, please contact us with your detailed enquiry and specifications.
Product Brochure:
http://docs.sacher-laser.com/broshure_ar-coated_laser_diode.pdf
http://docs.sacher-laser.com/broshure_ns-pulsed_diode_laser.pdf
http://docs.sacher-laser.com/broshure_universal_diode_laser_mount.pdf
http://docs.sacher-laser.com/broshure_dfb_laser_diode.pdf
http://docs.sacher-laser.com/broshure_littman-metcalf_diode_laser.pdf
http://docs.sacher-laser.com/broshure_littman-metcalf_motorized_diode_laser.pdf
http://docs.sacher-laser.com/broshure_raman_diode_laser.pdf
http://docs.sacher-laser.com/broshure_servo_controller.pdf
http://docs.sacher-laser.com/broshure_littrow_diode_laser.pdf
http://docs.sacher-laser.com/broshure_pilot_bfy.pdf
http://docs.sacher-laser.com/broshure_pilot_oem.pdf
http://docs.sacher-laser.com/broshure_pilot_pc.pdf
http://docs.sacher-laser.com/broshure_pilot_pz.pdf
http://docs.sacher-laser.com/broshure_tapered_amplifier_diode_laser.pdf
http://docs.sacher-laser.com/broshure_mopa_diode_laser.pdf
http://docs.sacher-laser.com/broshure_shg_diode_laser.pdf
http://docs.sacher-laser.com/broshure_littrow_tapered_diode_laser.pdf
http://docs.sacher-laser.com/broshure_vapor_cell.pdf